Spring Adventures on the Northern Oregon Coast
February 20, 2023
Category: Outdoor Adventure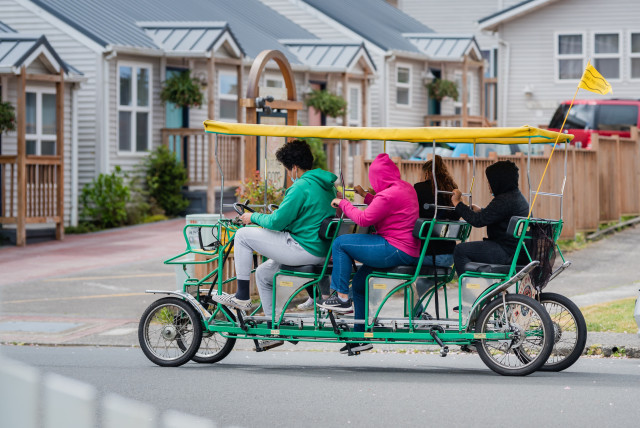 Spring Adventures On The
Northern Oregon Coast
You never know the weather
during spring time in Oregon, so
we've got some indoor and
outdoor ideas prepared for you.
All of our hotels are within
walking distance to town and
super close to the beach, so that
makes most of these adventures
pretty simple to accomplish.
Outdoor adventure:
Cruise the 1.5 mile Promenade in Seaside, rent a surrey (bikes built for 4+), or float down the Necanicum River on a SUP, kayak or swan boat. Rent a fat tire bike in Cannon beach and ride on the sand.
Hike Neakahnie mountain, walk around the Circle Creek Conservatory (just before the entrance to town in Seaside), or explore the trails in Ecola Creek State Park in Cannon Beach.
Fish right in Seaside off the 12th avenue bridge, at Cartwright park on the Necanicum river, or try your hand at surf fishing, right on the surf in the cove in Seaside.
Be a big kid. Just off of highway 101 is Captain Kid Amusement Park, full of fun things to do in Seaside. From gold mining, to a roller coast ride to bumper cars, there is something for everyone.
Indoor Fun:
Play classic games. Check out mini-golf, or the classics Tilt-A-Whirl and Bumper Cars in Seaside on Broadway Street! For kids and the kid-at-heart.
The carousel is a fun spot for families, but remember its cash only. Carousel Mall in Seaside also has a fun spot for caricatures, and cute shops for toys, hats etc.
Enjoy arcade games in the Carousel Mall, or at Funland on Broadway. Skeeball, air hockey, pinball games and more.
Solve puzzles and find clues at the Cannon Beach Escape Room in a fun, themed room for a group of up to 10.
Visit the Seaside Aquarium off of the Promenade, there is even a touch pool with anemones. Fun fact: the water in the tanks is pumped from the ocean!
Capture your memories of a fun trip at Inverted Experience in Seaside, even if they are outlandish, far-fetched or unbelievable!
Candy shops are so fun, check out Bruce's Candy Kitchen in Cannon Beach, and you might see them making fresh taffy.
There is more to do, but hopefully these ideas get you thinking of some fun trips in the future!