GIRLS TRIP TO CANNON BEACH, OREGON
June 02, 2021
Category: Outdoor Adventure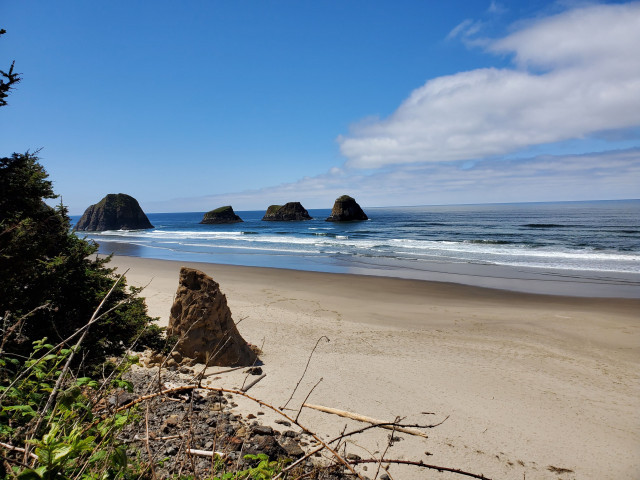 Girls Getaway to Cannon Beach, Oregon
4 Moms with 13 kids between us, and we needed a break. We headed to the beach on a Friday afternoon in May for an overnight at Inn at Haystack Rock in Cannon Beach. Coming from Hillsboro, it took us just over an hour to get there. There are multiple layouts of cottages at the inn, and we chose a two room cottage, #23 with two bedrooms, and a kitchen and living room with a fireplace.
Friday Night Highlights
Celebrating a friend's birthday, we got a Birthday Package which was set-up before we arrived in the room. Chocolates, a sign, fun party hats and cider. Flowers usually come with the package, but we didn't have anywhere to save flowers the next day.
Exploring downtown Cannon Beach: It's such a walkable town. We walked from our room to the beach in less than 2 minutes.
Dinner: We ate burgers and fish tacos at Pelican Brewing and walked some of it off on the Cannon Beach Nature Trail.
Dessert: We found dessert at a cute tiny honor-system pie shop, called Pie Girl and Pie Guy, and ate them in the beautiful gardens outside the hotel.
Beach time: After dinner we went just north of Cannon Beach and checked out Chapman Beach/Chapman Point. We found several cute, 'Cannon Beach Bunnies' along the way and enjoyed a quiet walk on the beach. This spot is fairly protected by the wind and is not busy.
S'mores: When it was close to sunset, we made s'mores with our s'more bucket supplies we picked up at the hotel when we checked in.
Saturday Highlights
Bakery + Hike: We checked out Cannon Beach Bakery, grabbed some goodies to take home and then got ready to hike in Ecola State Park. The park is just north of town and is beautiful! If you don't have time for a hike, just the view from the parking lot is breathtaking. It's also a spot where a scene from the Goonies was filmed.
We took the Crescent Beach Trail. It's just over 1 mile each way, but it is moderately difficult. Lots of roots and a few downed trees to climb over, but a beautiful, secluded beach and a little waterfall are your reward. To make it all worth it, the beach is protected from the wind, so it was a perfect spot. This beach is just around the point from Chapman Beach. This is an out and back trail, so up the hill we went.
Lunch and dessert in town: We had a quick lunch at Crepe Neptune, where all of their crepes have fun, Oregon Coastal names, and then we treated ourselves at the Cannon Beach Chocolate Cafe. Yummy milkshakes, hot chocolate, chocolates and more.
Our last stop was relaxing at the beach, and then we headed home. Quick trip, but we packed the fun in! It was a much needed getaway to recharge us.