FORT STEVENS DAY TRIP
July 28, 2021
Category: Outdoor Adventure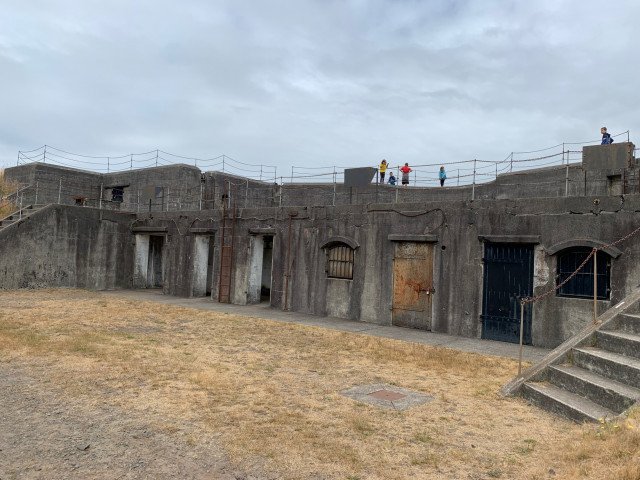 Fort Stevens Day Trip
Fort Stevens State Park in Hammond, Oregon is a perfect day trip from Portland, Oregon, or a trip to take while staying nearby in Seaside, Cannon Beach or Astoria. It's a great place to learn some history and to have fun exploring. Kids love running free here and there is plenty to do for adults as well.
Some background on the park: The fort was built to guard the mouth of the Columbia River (where it meets the Pacific Ocean) and was in service from the Civil War to World War II. The park is 4,300-acres and includes a lake, 15 miles of biking trails and the actual fort. "The fort has the distinction of being the only military fort in the United States to be fired upon by an enemy during time of war since the War of 1812, when it was attacked by a Japanese submarine on June 21, 1942."
The Fort: You can check out the small museum for some background on the fort and then you can explore the fort and artillery gun batteries, or can take a tour of the area in a truck. There are views of the river from on top of the fort and kids love sitting in the jeep outside the museum and playing all around the fort.
Disc golf course: Bring your own discs, or buy some at the museum. There are 23 holes to play around the fort.
Bike trails: There are 15 miles of beautiful trails that take you through lush forest. You can ride from the fort to the campgrounds and to the beach as well.
Shipwreck: The Peter Iredale wrecked in 1906 and you can see the shipwreck at the beach in the park. The Peter Iredale was a four-masted steel bark built in Maryport, England, in 1890 and owned by British shipping firm Iredale & Porter. Go at low tide to see as much of the ship as you can.
Good bite to eat: Go to The FishMongers for fabulous fish 'n chips and fish tacos. It may say it's closed on Google, but it's not! Check it out.
More info here on the park.