A little gem: the town of Jewell, on the way to Seaside & Cannon Beach, Oregon
January 18, 2021
Category: Family Fun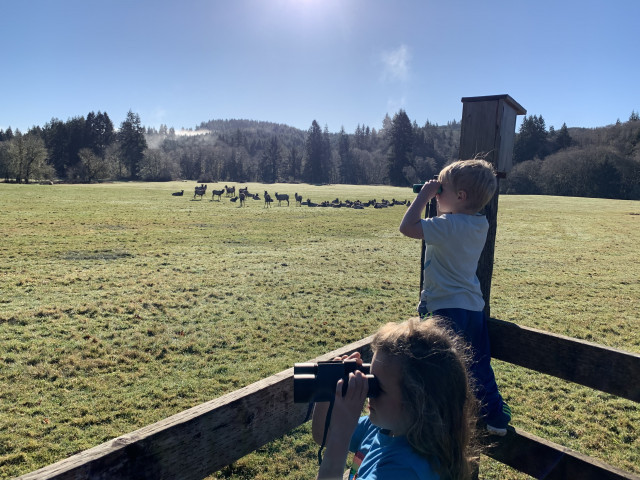 Do you ever wonder what's off the beaten path in those beautiful evergreen forests on the way to the Oregon Coast?
Enjoy a fun outdoor adventure this winter on your way from the Portland area and to Seaside, Cannon Beach, or Astoria.
Here is a mini winter itinerary that will help you appreciate the beauty that Oregon offers:
If you're heading from Portland on Highway 26 to the coast, stop by Baker's General Store and Bakery for some morning refreshments and baked goods. My kids loved the doughnuts, especially the massive maple+ chocolate bar. Just a 1/4 of a mile down the road, is OR- 103 and the town of Jewell; turn left here.
10 miles down the road is the Jewell Meadows Wildlife Area where you can see elk in the winter, and birds year-round. "The wildlife area's purpose is to protect and enhance habitat to benefit native wildlife species, to reduce wildlife damage to adjacent properties, and to provide the public with an opportunity to observe wildlife in a natural setting." November-April, elk are fed every morning at 9 am to reduce the amount of grazing they do on neighboring farms and to bring them to one place daily for visitors to view. The wildlife area is 1,114 acres in total, and there are 2 viewing areas with parking lots for visitors. One has bathrooms and there are picnic tables at both. You may also see the elk as you're driving on these rural roads. During non-COVID-19 times, people can ride the hay wagon and help distribute the morning feed to the elk. We saw a group of about 60 at one viewing area and another 100 or so at the other, along with other groups on the side of the road as we traveled to the refuge.
The Lee Wooden Fishhawk Falls trailhead and Recreation Site are just a few miles down the road. Walk the short trail (less than 1 mile roundtrip) to see this 72' waterfall. Obviously it is fuller and more impressive in the winter months due to the rainfall. This waterfall is 25.5 miles southeast of Astoria, or 4.5 miles northwest of Jewell along Highway 202. My kids, aged 3 and 6, loved throwing rocks in the stream and are so excited to come back. There was a picnic table along the gravel trail for those who want to linger. There are no bathrooms at this site.
After your adventures, head into Cannon Beach or Seaside for some lunch and to check-in to your hotel. Book a stay at one of our hotels here: Inn at the Prom in Seaside, Oregon with oceanfront rooms available, as well as jacuzzi tubs, fireplaces and kitchens or kitchenettes in all rooms. Inn at Haystack Rock is our Cannon Beach hotel, just 2 minutes from the beach, and 3 blocks from town with fireplaces, kitchen or kitchenettes and jacuzzi tubs and porches in some rooms. The Gilbert Inn, is a Victorian historical hotel that welcomes families and serves breakfast. All rooms have a private bathroom.
Hopefully this inspires you to explore and make your own memories!