2 Night Girls trip to Seaside: Part II
November 18, 2022
Category: Outdoor Adventure
Our first night and day were spent in Cannon Beach and Seaside, and we continued to have fun in Seaside and Astoria for the rest of the trip. See the first blog here.
Saturday Highlights
After a fun, wet evening exploring Seaside, we enjoyed sleeping in, eating our made-to-order breakfast and planning our day. It was another wet day, so we planned a few indoor things, and also brought our rain gear for everything else. We headed over to Inverted Experience for some fun photos. You can take photos with a group that are then turned so you look like you're blowing in the wind, upside down on a tandem bike etc. They move you through quickly, but give you the time you need to have fun. It's definitely a fun, unique thing to do.
My family had never been to the Seaside Cove before, so we headed down there to search for sand dollars, and we were in luck! We found handfuls of them! The cove is in the most southern part of Seaside, it's a
popular surfing spot, and it's in a quieter part of town.
Then we headed north to Astoria and checked out the Columbia River Maritime Museum on the Columbia River. It's a fascinating museum that talks about the terrors of the sandbar crossing on the mouth of the Columbia River and the Pacific Ocean,countless shipwrecks and more. Astoria is a fascinating town, it's a hub, and also a gateway.
Then we drove up to the Astoria Column. We knew we wouldn't get to see much of the view because of the rain, but it was good exercise up to the top of the 164 steps, and it's a great historical attraction.
It was built in 1926 and depicts the area before explorers came, the local tribes and the Lewis and Clark expedition.
We were in town on the first Saturday of the month, which is when the Art Walk is. We checked out some of the open galleries in Seaside including Fairweather House and Gallery and SunRose Gallery. It was fun to see how things vary from artist to artist; art made from recycled materials, art made with shells and driftwood, and beautiful paintings from local artists. These galleries are in the Gilbert District, which is a short walk from the Gilbert Inn and Inn at the Prom.
Sunday Highlights
Sunday was spent in Cannon Beach. We had breakfast, checked out, and went to Haystack Rock at low tide. They have Haystack Rock Awareness Volunteers there to help answer questions, and to help protect the tide pools. While the tide was still low we checked out Hug Point. Hug Point is a bucket list attraction while in town. The waterfall there was very full, and we could walk along the old coach tracks on the side of the rock face, where people used to travel before 101 was created.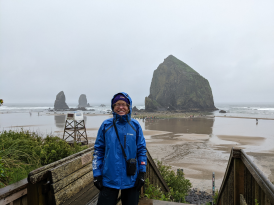 We enjoyed the short Cannon Beach Nature Trail that meanders along Ecola creek, wetlands, the forest, and back into town. Then it connects to the paths at the water treatment facility where we saw lots of elk. The elk had somehow made it into an enclosed area, possibly by jumping the fence, so we were at a safe distance.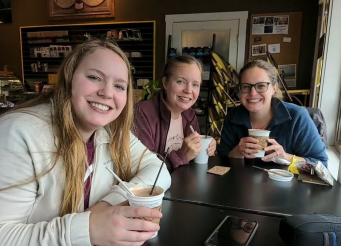 We ended our vacation at the Cannon Beach at Chocolate Cafe with delicious hot chocolates and chocolates to bring home to our families.. It was a fun, busy trip. We figured we might as well pack it in when we didn't have any little kiddos to slow us down, plus there is a lot to see and do!